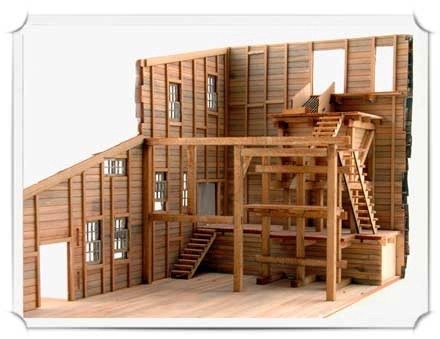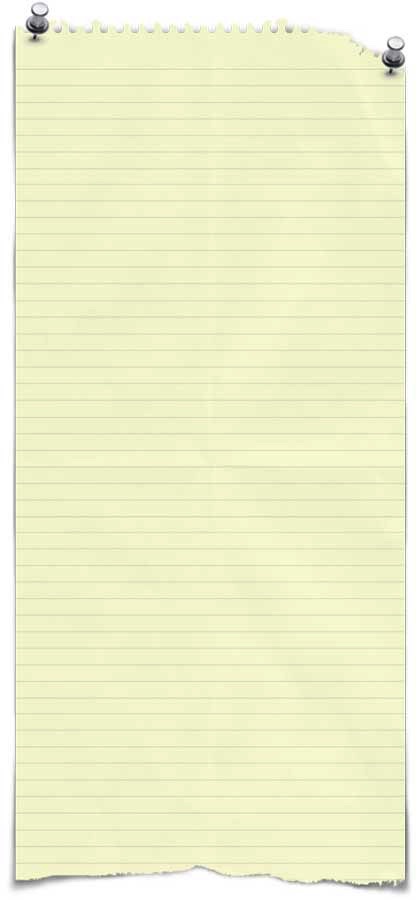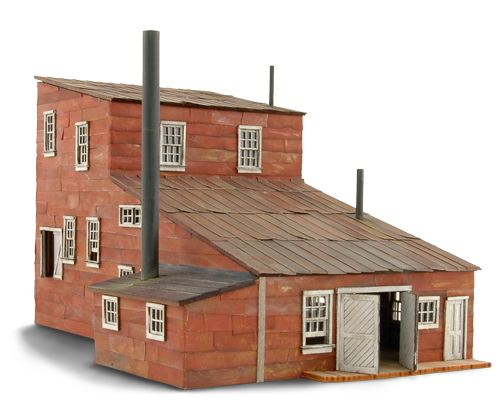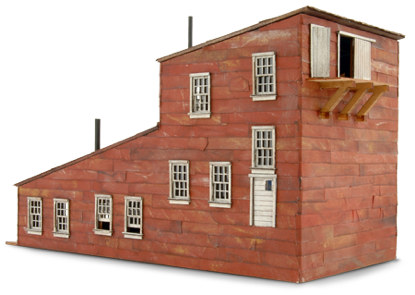 Kit #223
Currently being re-designed for full interior detailing
(be sure to scroll all the way down!)
HO scale Little Red Mill
Interior detailing shown above and below
◊ Details include: Interior etched floor boards,
interior wall framing, ore bin, platforms,
stairs, a grizzley, stamp frames, removable
roofs, plank siding that is engraved on the
interior and exterior wall surfaces, boiler
room, windows and doors that can be
positioned open or closed and include
laser-cut glazing, and can be built with the
metal siding or without!
◊ Our trademark EASY to follow FULLY
Illustrated step-by-step instructions make
building easy!
◊ Precision Laser cut wood construction.
◊ Includes our paper corrugated roofing
material, "metal" sliding and tar paper
roofing.
◊ Footprints
N = N/A
HO = 5.0" x 8.3"
S = 6.8" x 11.3"
O = 9.0" x 15.0"
◊ Based on measurements by Joe Crea and
Mike Pyne. Additional material provided by
Keith Pashina.
◊ With all of kits, we include some way for you
to customize our structures right out of the
box.
◊ This allows you to add you own personal
touch to fit your layout. See "The Design"
section below for some of the included
options.
(contributions from Joe C. and Keith P.)
The "Little Red Mill," officially the Quartz Hill and Nevada Mill, is one of the few remaining mill structures still standing in the Central City – Black Hawk area of Gilpin County, Colorado. This historic region has a rich history of gold mining and railroads. Gold mining began here in the 1850's, and Gilpin County was one of the earliest and most productive districts in the state. Later, as the mining industry expanded, the Colorado Central (later the Colorado and Southern) and Gilpin Tramway railroads served this area.
The Quartz Hill and Nevada Mill is on the south side of Gregory Gulch, between Black Hawk and Central City. It is still standing, as of January 2010, but it is for sale and is located in the heart of the new gold rush – the gambling district. It likely will be demolished and a casino built in its place in the not-too-distant future.
Although no records have been found of this mill having ore shipped from the Colorado & Southern or the Gilpin Tram, the grade behind the mill (and the remaining retaining wall) hint that this mill could have been served by wagon.
The "Little Red Mill", like many other mine and mill structures in this area, is constructed of rough-sawn wood sheathing over a heavy timber frame. This was then covered at some point with flat metal siding and painted to further repel the harsh weather. No machinery remains inside, only timbers that once supported the mill's operations. (red–iron oxide paint was commonly used to repel the elements because it was both economical and provided the longest protection–the reason we call it the "Little Red Mill!)
Today, the hillsides of Gilpin County, once stripped of their wood for the mines, have regrown with pines and aspen trees, and the mill silently weathers away in the sun. But someday, this mill will succumb, like many others, to time, the elements, and/or progress of the area.
For actual pictures of this structure, visit our Little Red Mill gallery page.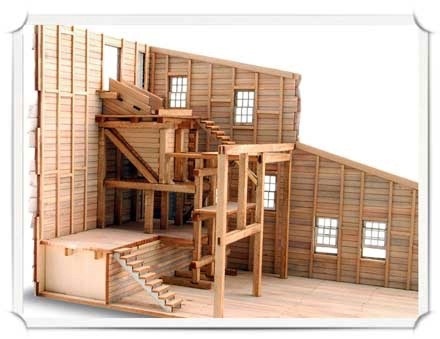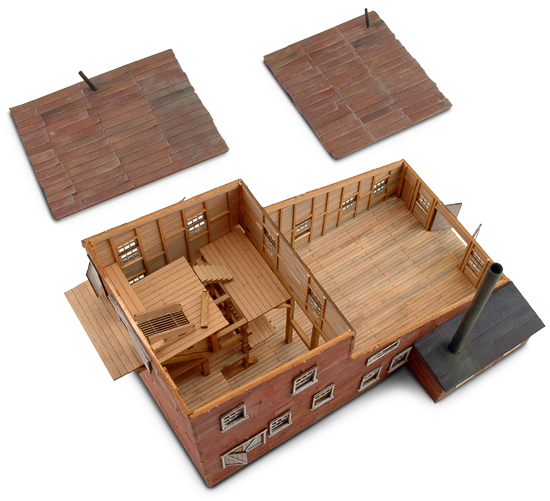 Interior view:
Ore bin, grizzley, stairs, platforms, stamp frames, interior structure, posts & beams, raised second level, & boiler house – all included!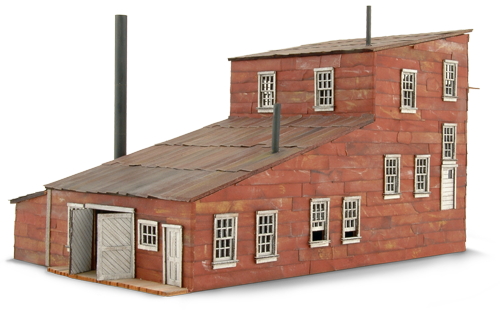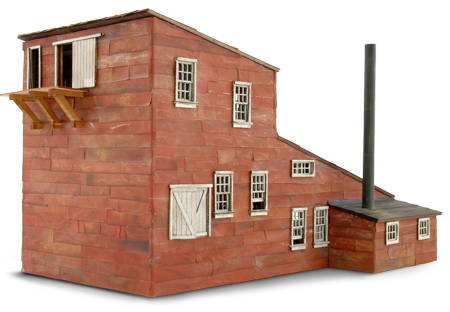 Today, the existing structure has been converted to a storage/junk building on the inside. We analyzed what was left of the interior framing of the mill, as well as old pictures, to come up with the side boiler addition and window/door placements. On our gallery page, we have included pictures of the structure as it is standing today to aide in building and customizing this mill to your layout. 
We have also included many options for this kit. As with all our mining structures, this mill can be built with the wood siding exposed or covered with the metal siding.
Boards are engraved on the inside walls, as well as, the exterior walls.