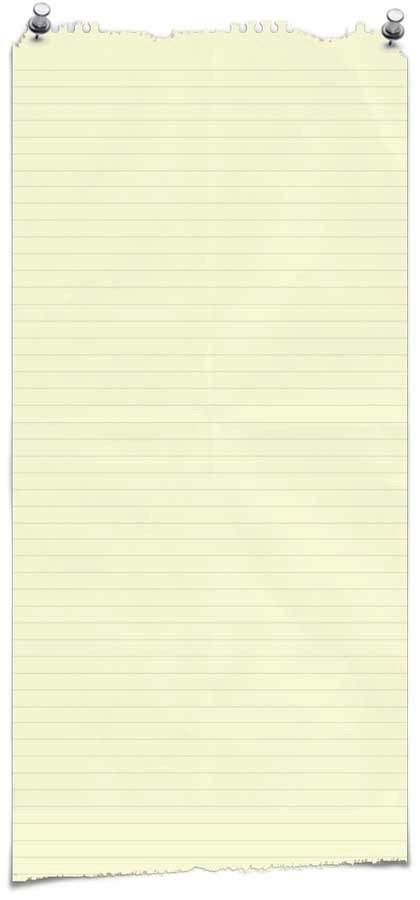 (be sure to scroll all the way down!)
S scale Don's Dry Goods (above)
HO scale Interior (below)
Details include: Interior etched floor boards, interior walls, removable second floor, removable roof with roof trusses, exterior stair case that can be built on the right or left sides, additional signs for multiple building options, windows and doors that can be positioned open or closed and include laser-cut glazing, and self-squaring walls. O scale walls are thicker for strength!
Our trademark EASY to follow FULLY Illustrated step-by-step instructions make building easy!
Precision Laser cut wood construction.
Includes our laser-cut, realistic no-paint paper shake shingles (#_12) and tar paper roofing.
Footprints
N = N/A
HO = 3.5" x 5.3"
S = 4.7" x 7.2"
O = 6.3" x 9.6"
With all of kits, we include some way for you to customize our structures right out of the box. This allows you to add your own personal touch to fit your layout.
Don's Dry Goods kit includes multiple
signs: Don's Dry Goods, Rooms, Hotel.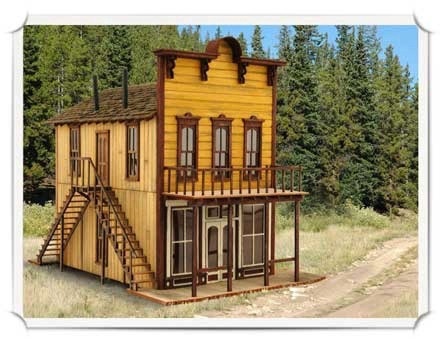 Dry Goods stores could be found in many towns, big and small, all across the United States. Typical merchandise sold included fabrics, decanters, patent medicines, writing implements, cooking pans and utensils, and hardware. Some stores sold groceries, but that was not common.
This model is a freelance designed false front building, inspired and designed from many prototype structures found all across the West, and includes some of the common architectural elements and styles found on structures of the time.
A Dry Goods Store is just one of the many possibilities that this structure could be built as. We leave the second floor possibilities to your imagination!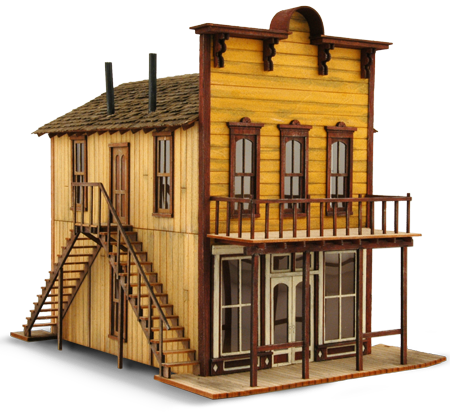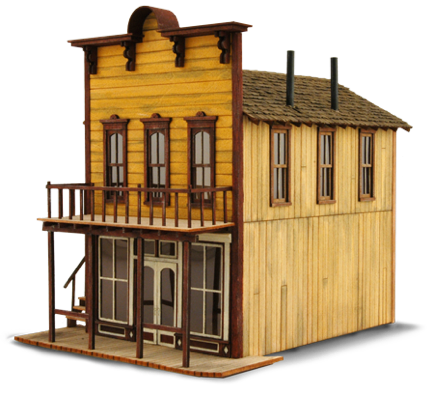 Two building options: Build the stairs on the Right or Left sides to customize to your layout!